About Us
Rhythmajig has been proven with over 10 years use in schools, gaining consistently outstanding results. The guiding principles have always been about:
E

ngaging content

Fun activities

Cool characters

Teaching and learning that is applicable to today's children.
Characters
Crotchet is red. He likes to walk steadily. He's worth one beat- check his top to find the heartbeat.
Minim is blue. She sli-ides everywhere (2 beats).
The Quaver Twins are yel-low. They go jog-ging. (1/2 a beat each).
Semibreve is green.
The Semiquaver Brothers are multicoloured. They go run-ning quick-ly (1/4 of a beat each).
Each character has its musical notation sign on its clothing, which the children can recognise, even in year R!
Rhythmajig Primary Music. 62 Strawberry Mead, Fair Oak, Eastleigh, Hampshire SO50 8RG.

Semibreve, Minim, Crotchet, Quaver Twins and Semiquaver Brothers (left to right)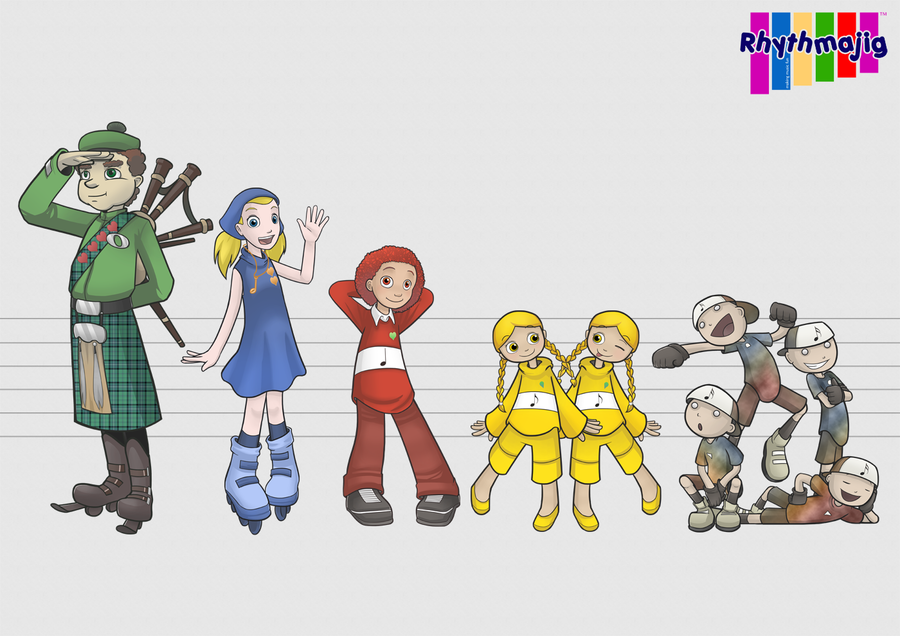 Through meeting the characters each week and playing character matching games, children learn to associate each character with real notation. They can then build and play musical patterns and begin to read and write stave notation.